Elevated Living
As A Daily Experience
Service
Our proprietary Optimized Service™ at Optima Verdana™ takes concierge services to the next level, providing conveniences for our residents within the comfort of their homes, with our professional in-house teams working around the clock. Complimentary services include front door staff, dry cleaning pickup and delivery to the closet, and in-home package delivery within 24 hours of arrival to the building. The program complements the services available through the Optima Verdana™ mobile app, which offers our residents the ability to schedule an incredible array of services including housekeeping, pet care, onsite massage, personal training, onsite room service and to call, email or text a virtual personal assistant who can book reservations, appointments, coordinate travel and other similar tasks.
Technology
Optima Verdana™ has been designed and built with access to technology front and center, so residents will benefit from best-in-class digital connectivity that is accessible across the entire six-story development plus the rooftop sky deck. The building supports smart home technology that includes keyless entry, smart thermostats and outlets; diverse service provider options to best match all resident's needs; and exceptional cell phone coverage and accessible Wi-Fi connectivity throughout the building.
Programming
Our approach to programming at Optima Verdana™ stems from our commitment to a hospitality-infused quality of life for our residents. Our onsite staff works as a collaborative curatorial team, crafting events and programs to satisfy the interests and needs of the entire Optima Verdana™ community. A rich assortment of programs invites residents with shared interests to come together, running the gamut from a book or cooking club to card games and yoga classes to those interested in neighborhood volunteer opportunities. Over time, we continue to evolve our events as new ideas and priorities emerge, providing residents with authentic connections and engaging activities. And to ensure our residents feel at home in the Wilmette community, our Optima Connect™ program features exclusive offerings and discounts at local businesses.
Art
Optima Verdana™ embraces and appreciates art and infuses it into every corner of our community. Sculptures designed by Optima® Founder, David C. Hovey, FAIA, complement the modern design of the building, welcoming guests in the plaza, entryway, and throughout amenity spaces. Additionally, original art designed by Ellison Keomaka fills the halls, acting as an exclusive gallery for residents and their guests.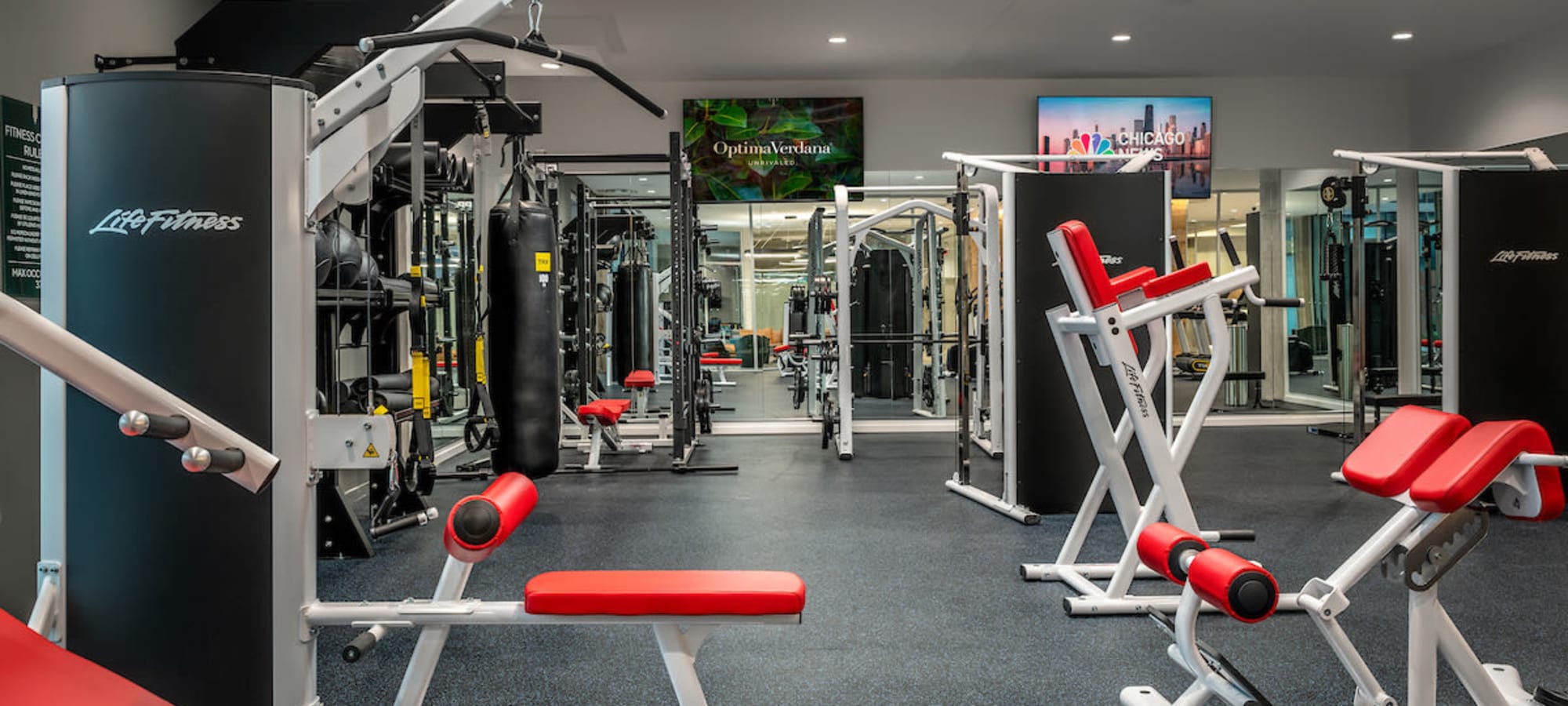 The Luxury of


Living Well
Our approach to our residents is deeply personal and infused with hospitality; those who live at Optima Verdana™ will feel welcomed and cared for at every moment. Our programming and management are customized and curated to make everyday life extraordinary, and to ensure that our residents always feel right at home. Integral to the Optima® experience is a sense of belonging to a community and sharing authentic social connections with others. This, too, drives our approach to every program and event we offer, giving our residents the opportunity to join with others in endless ways — from meeting up on the pickleball court, joining with others for a game of mah jong in the game room to taking a yoga class in the yoga studio.
Optimized Service™
Optimized Service™ includes white glove, in-home package delivery & box removal, grocery & dry cleaning delivery and plant watering.
Complimentary Towel Service
Complimentary towel service is provided in fitness center, locker rooms and poolside on the rooftop sky deck.
Pet Care
Pet care services include onsite dog grooming in our pet spa, dog walking, pet visits, pet sitting and in-person or virtual meet & greets.
Onsite Massage Therapy
Optima Verdana™ has partnered with incredible massage therapists to provide massage to residents in the comfort of your own home.
Curated Social Events
& Clubs
Our onsite team carefully curates social events and programs such as food trucks, music and cocktails on the sky deck, and cooking demonstrations. 
Resident Clubs
Organized resident clubs are varied and include everything from book club and bridge club, to cycling club and pickleball league.
Fitness Programming
Fitness programs including yoga and mindfulness, high-intensity interval training (HIIT) classes, kids creative movement and personal training are available to the residents of Optima Verdana™.
24/7 Virtual Personal Assistant
A 24/7 virtual personal assistant is available by phone, email or text to assist with an array of complimentary personalized services including reservations, travel, tickets, coordination and more.
Maintenance Services
Our onsite team of maintenance professionals provides filter changes, light bulb replacement, assists with hanging tvs and is available for any service request that comes up.
Optima Connect™
Residents of Optima Verdana™ can take advantage of exclusive discounts to area restaurants and retailers.
Housekeeping
Through our partnership with Elevated Living, residents can choose from a variety of housekeeping offerings through our custom Optima Verdana™ mobile app.
Moving Services
Through the Optima Verdana™  mobile app you can schedule with one of our preferred movers who will pack your belongings and move them into your new home at Optima Verdana™.